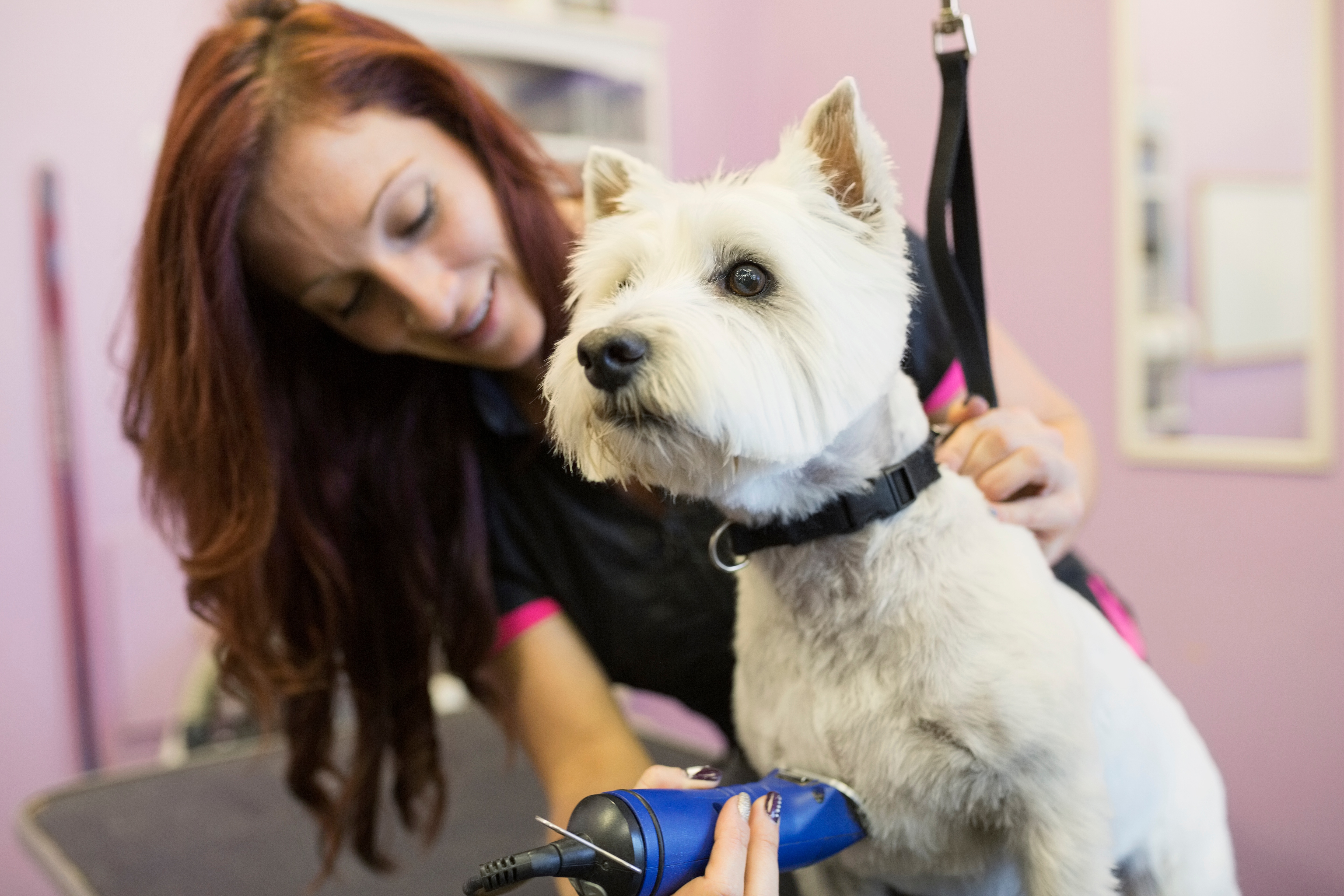 If you've been following our blog over the past few months, you've probably learned a lot about dog groomers, tools, salons and shops, and so on.  In this week's post, we unpack the grooming process itself, to answer that perennial question: Why does grooming a dog take so darn long?
Even pet parents who have been taking their dogs to grooming salons for years sometimes wonder why the process takes so long. In this week's post, Nicole Morris, PetSmart's Salon Quality and Education Manager for the Great Lakes Region, shed some light on the matter.
"At our grooming salons," Nicole says, "two to four dogs arrive within the first hour of the groomer's day. The groomer spends 5 to 15 minutes talking with the pet parents about the dog's health, behavior, goals, and so on." This checking-in chat is important, so plan for it when you make your appointment!
Once the dog is checked in, work proceeds in five logically ordered steps:
Prep work – The groomers take care of the basics first: coat (shaving and/or brushing out), nails, teeth, and ears. Always brush your dog's coat before the bath, to avoid tangles and knots!
Bathing – The bath itself can be quick or more intense, depending on the dog's coat and any treatments such as conditioners or de-shedding. In any case, an extremely thorough rinse finishes things up.
Drying – The drying process is essential; coats need to be completely dry in order to stretch to full length and make an even cut possible. The dryers make many dogs nervous, so at times the groomer will towel dry the dog, or turn a fan down to low and let the dog air dry. Many dogs still benefit from a break after the drying process. Drying times can be less than 15 minutes for a Yorkie, but closer to 45 for a Goldendoodle.
Clipping and tidying up – Finally, we're to what feels like the "haircut"! This is when the groomer trims and tends to every last detail, from nose to toes to the tip of the tail.
Bows and bandanas – Your dog is looking and feeling great, so why not top all that goodness off with something fun? Team bandana or rhinestone bow, anyone?