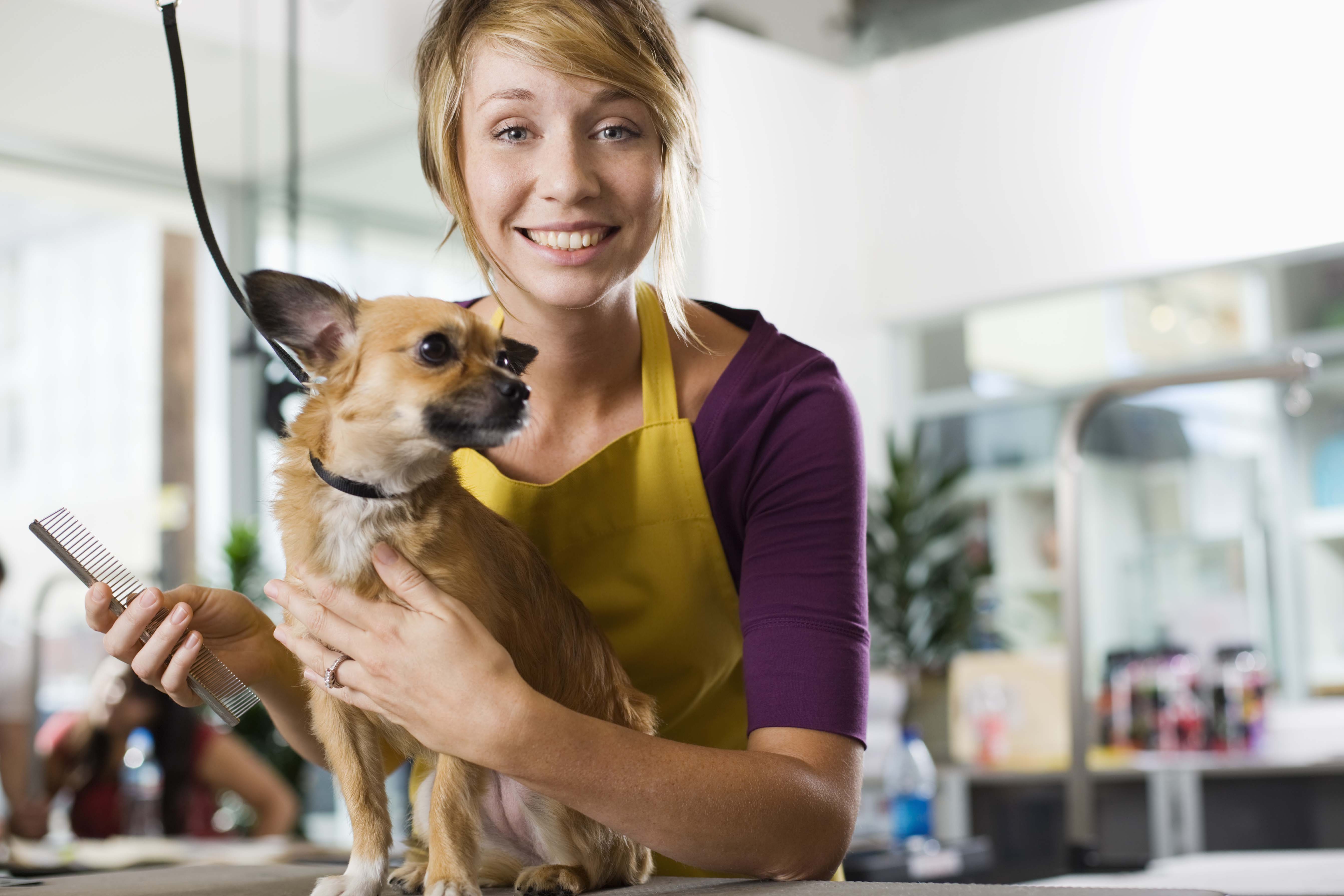 Many—perhaps even most—dog groomers don't start out thinking grooming will be their career. Successful groomers enter the field from all sorts of backgrounds. Many come to this work out of a deep love and commitment to animal welfare. Others get curious about the career when they bring their own dogs to be groomed.
The paths to grooming are so diverse, it begs the questions: What do these professionals have in common, personality-wise? What attributes make a great groomer? And, could this describe you?
Nicole Morris, PetSmart's Salon Quality and Education manager for the Great Lakes Region, provided her insights. A former professional dog groomer herself, Nicole knows this work inside and out, and has seen countless new groomers succeed. Here's what she thinks they have in common:
Groomers need to be compassionate.
"The #1 quality all great groomers share is compassion." Groomers need to be able to work well with pet parents from all walks of life, and with all different types of dogs. Some (parents and pets!) will be nervous or anxious. Some will bring in a dog with a health issue they might not even have noticed. Whatever the case, the groomer "has to be able to walk them through it," Nicole says. And they need to do it with compassion and professionalism.
Groomers need to be patient.
Many pet parents are nervous, especially the first time they visit a salon (or a new groomer). "Especially for the Millennial generation, many of whom don't have kids, the dog is their kid. Dropping the dog off at the salon is like dropping your kid off on the first day of preschool. [The pet parents] want to know the entire process," Nicole says–and the groomer needs to be able to explain the process quickly but thoroughly, helping the pet parents relax.
Groomers need to be extroverted (in some ways).
When new clients arrive for appointments, the groomer needs to jump right in, engage the clients, and ask questions about some unusual topics, like poop, fleas, hair mats, and so on. As a groomer, "you have to be a little bit of an investigator," Nicole says. Groomers also need to be extroverted enough to be good team players; they "need to be willing to ask for help—or to jump in and offer it proactively to another groomer who might be struggling."
Groomers need to be detail-oriented.
Finally, great groomers are extremely detail oriented. They see the details, and feel motivated—compelled, even—to ensure every detail is just right.
Does this sound like you? If so, why not consider a career (or a new career) in dog grooming?